Adjacent Parishes: Ardeley, Ashpenden, Clothall, Rushden, Sandon, Throcking, Wakeley
It is in Odsey Hundred and the Buntingford Union
The Medieval parish of Broadfield is now part of Cottered.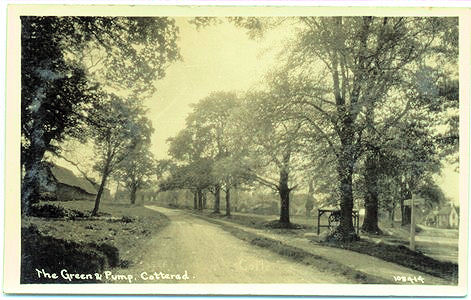 The Green & Pump, Cottered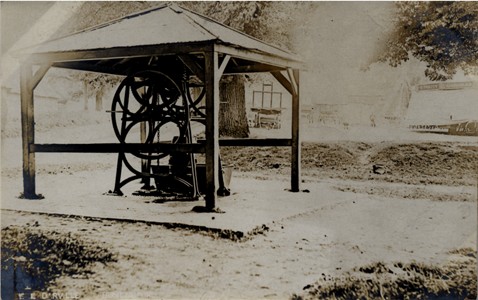 The Village Pump, Cottered - circa 1900
Published by E E Darvell (a newsagent and stationer in Buntingford)

Cottered (7 miles N.W.) is a most pleasant parish on the undulating chalk hills. At Haymead Hill over 480 feet elevation is attained. Hamlets include Flanders Green, Hare Street and The Warren. After the Norman Conquest this manor was granted to Walchlin, Bishop of Winchester. The Lordship, a magnificent former farmhouse, is one of the most ancient domestic buildings in Hertfordshire.

Cottered has a handsome church dating principally from the 15th century with an embattled tower and a lofty spire. The fine old timbered roofs and medieval wall painting should be noticed.

Broadfield and Throcking have now been incorporated with this parish. The former was previously the smallest parish in the Rural District. It occupies a pleasant position on the chalk hills where it rises to some 450 feet above sea-level. The Hall dates in part from the 15th century.

Throcking attains a height of 485 feet and is the highest point in the Rural District. At Half' Farm are traces of the old manor house of the Elwes family. The 13th and 14th century church has a perpendicular tower with an upper storey of brick added in 1660. The newly-painted crosses on the church walls mark the positions of the original consecration crosses.

Braughing Rural District Official Guide 1971

See the Medieval Wall Paintings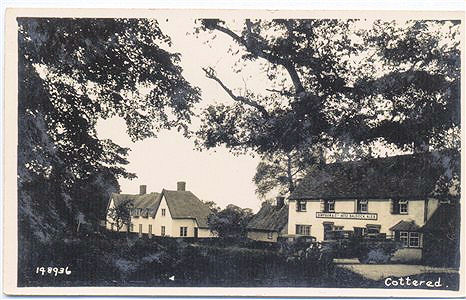 The Village, Cottered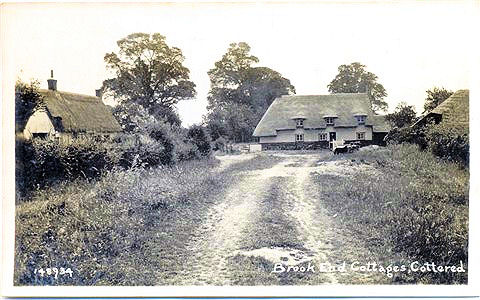 Brook End Cottages, Cottered
Census: There is a list of surnames from the 1841-1901 censuses on the HCM web site.
See also Vital Records
If you know of other books, websites, etc, relating to this place, please tell me.
Page updated February 2008
November 2009 - Japanese Garden