[Unless otherwise stated family information comes from the IGI, VRI, and census data.]
Christopher Miskin - His Family
Christopher Miskin was the son of John Thomas Miskin and Margaret Susanna (nee) Cox. He was born on 1st October, 1830 and baptised on 24th October at the parish church, Mayfield, Sussex [familysearch-1830]. His father died in 1839. In 1841 he was living with his mother in St Nicholas, Rochester, Kent, the household including a 7 year old Jemima Horlock [census-1841]. In 1851 he was still in Rochester, working as a carpenter, and his mother had married Richard Horlock, a barge owner and father of Jemima Horlock. In 1861 Margaret Horlock was staying with her son in St Albans, where she was described as a farmer's wife. Her father's occupation is described as plasterer (1841), formerly builder (1851), surveyor & proprietor of houses (1861), Income from Freehold of property (1881)
18th October, 1856, Christopher Miskin of St Albans married Rose Hannah Irish , eldest daughter of John Irish, Esq., of Brighton.. She was born circa 1834 in Bushey, the daughter of Hertfordshire born John and Eliza Irish. In 1851 the family were living in Hawkhurst, Kent, although the family was in Bushey in the 1841, 1861 and 1881 censuses.
Note on Bushey Connection: Sue Giddins (suegiddins @t hotmail.com) wrote: Rose Hannah Irish was the granddaughter of Joseph Irish, brewer & publican of the Devonshire Arms & the Three Crowns in Bushey Heath. According to the 1851 census Joseph was born in Somerset. Rose's father John was my grt grt grt grandmothers brother.
Christopher and Rose appear to have moved to St Albans soon after the marriage as their children (all born in St Albans) were John (1857/8), Christopher W (1859/60), Rose (1861/2), Ernest (1863/4). Henry R (1865/6), Walter W (1867/8). Alfred (1869/70), Alice M (1870/71), Eliza M (1872/3). Early references are to the family living in Fishpool Street, later references to Romelands or Romelands Hill, but as some records treat Romelands as part of Fishpool Street the distinction may not be significant.
The last definite reference I have to Christopher Miskin in St Albans is from the 1908 Kelly's directory for Hertfordshire, which lists him at Romeland Hill, and his son Christopher Walter Miskin at 10 Upper Marlborough Road. as later references to "Christopher Miskin" probably refer to the son. He is undoubtedly the 99 year old Christopher Miskin who died in Kent in 1930.
Christopher Miskin - The Builder
C. MISKIN,
Builder & Contractor
ST. ALBANS
-----------------------------------
Steam Sawing & Joinery Works: Rome Land
Brick & Lime Works: Bernardís Heath
-----------------------------------
EXPERIENCED MEN FOR
SANITARY, PLUMBING,
Decorating,
MONUMENTAL STONEWORK,
HOT WATER FITTING, &c,
-----------------------------------
Timber, Flooring, Match-boarding
SKIRTING, MOULDINGS, SLATES
CEMENT, CHIMNEY POTS, RIDGE, ROOF & FLOOR TILES
And Every Description of Building Material at Lowest Prices
[St Albans Almanack and General Advertiser, 1890]
There is no doubt that he became one of the most important builders and builders' merchants in the expansion of St Albans following the arrival of the railway. The earliest reference I have found is in the Herts Mercury of 15th December, 1855 when it is recorded that the bid "... of Mr. Miskin, builder, for coffins, were accepted" by the Board of the St Albans Union. It is possible that he had taken over the business of John Fowell, builder and undertaker, of Fishpool Street (1851 trade directory), who died in 1854 (FreeBMD).
In the 1861 census he was described as a builder employing 11 men and 2 boys. In 1871 he was described as a master builder employing 92 men and 3 boys and by 1881 this had expanded to 120 men and 18 boys. Shortly before 1900 the company C Miskin and Sons Ltd was formed and it would appear that effective management passed to his son Christopher Walter Miskin. In 1914 they were described as Miskin C & Sons Ltd, builders & contractors, builder's merchants, decorators & sanitary engineers, 5 Romeland Hill. TN 11 St Albans; TA "Miskin" [Kelly's Hertfordshire Directory 1914].
The company had opened London offices by 1923 and was still operating from Romeland in 1966 [Kellys St Albans Street Directory - last date checked] and is currently (2007) listed as operating from an address in Welwyn Garden City. It is not known why the 1923 advert claims an establishment date of 1790.
A builder of this size will have been involved in many projects, and only a very small number have been noted by me. In 1866 he won the contract for the enlargement of the Retort House at the gas works for the St Albans Gas and Water Company [Herts Advertiser, 24th March 1866]. In 1882 the St Albans School Board approved payment of £200 for work done by Mr Miskin on the Alma Road School [Herts Advertiser, 4th March 1882]. Shortly afterwards his tender for £500 for the erection of the pulpit at the Abbey (exclusive of the sculptures) was accepted [Herts Advertiser, 1st April, 1882].
Following the construction of the mains sewer in 1883 C. Miskin was one of a number of builders who advertised their willingness to make connections for individual properties to the sewer [Herts Advertiser, 6th October 1883]. In 1893 the new hospital for infectious diseases, The Sisters Hospital, was opened and the local paper reports that a number of people were shown round by the builder, Mr Alderman Miskin [Herts Advertiser, 1st July 1893]. In 1899 a new pumping engine was installed at St Albans Waterworks [Herts Advertiser, 2nd December, 1899].
In January 1902 the foundation stone of the Congregational Church, Spicer Street was laid. It was reported that the church would be built of red brick with terracotta dressings and the contractors were Messers C Miskin & Sons [Herts Advertiser, 19th January, 1902]. In 1905 the plans drawn up for 12 cottages in Sandridge Road, and 20 cottages in Upper Culver Road were approved by the St Albans Rural District Council [Herts Advertiser, 10th June 1905].
Add staff events etc
Christopher Miskin - Making Bricks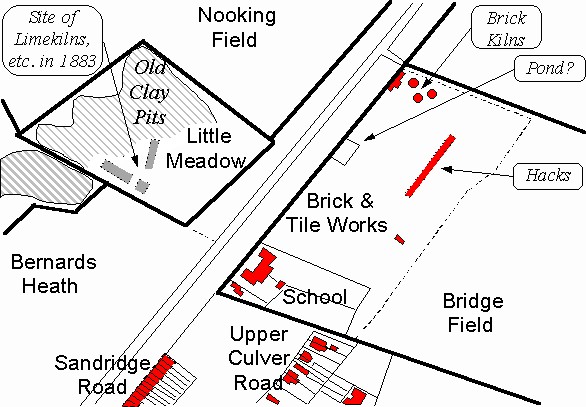 Map of the brick works on Sandridge Road circa 1900
see Heath Brick & Pottery Works
William Bennett had brick works on Sandridge Road in the field that had originally been called "Little Meadow". He died in 1862 and in 1864 James Vass (a builder who lived next door to Christopher Miskin in the 1861 census) advertised that he had taken the old-established and well-known BRICK and LIME YARD, situate on Bernardís Heath, and for so many years carried on by the late Mr. William Bennett. I have found no other reference to James Vass making bricks and in 1865 the following advert appeared: Good fresh Flare Lime may be obtained of C. Miskin at Bennettís Brick Yard, Bernardís Heath, St. Albans.
7th March 1866 Herts Advertiser: [Old News?]
Theft from Edmund Smith -first reference to Miskin's Brickyard on Bernards Heath
18th January 1868 - Question of rates on Miskin's former brickfield at Sandridge
25th April 1868 Herts Advertiser:
50,000 NEW ROOFING TILES, (Taylor's Patent) to be sold at half price, in quantities to suit purchasers. ó Apply to C Miskin, builder, St Albans.
24th August 1872 Herts Advertiser
Theft of Money - Miskin's Brickworks
In 1876 Christopher Miskin was fined for employing underage children in his brickworks. The account of the Petty Session hearing makes it clear that the brickmakers were paid a piece rate and often employed boys to do the associated labouring work. In this case the underage boys were obviously working for their fathers.
24th December 1881 - Vandalism at Miskin's Bernards Heath brickyard
6th October 1883 Herts Advertiser: [Old News?] Damage to bricks
15th December 1883 - Vandalism at Miskin's Bernards Heath brickyard
Between 1890 and 1893 some adverts (see head of this article) included references to the Brick and Lime works on Bernards Heath.
About this time it seems the brickworks transferred to the East side of the road (adjacent to the school) and in 1894 there is the first mention of Jacob Reynolds making bricks.
Christopher Miskin - Property Developer
Christopher Miskin - Other Activities
At the end of 1859 a meeting was held in St Albans to establish the St Albans Rile Corps and Miskin became a committee member [Herts Advertiser, 24 December 1859]. On 3rd March the members of the newly formed Rifle Corps, formally entitled The 3rd Herts Volunteer Rifles, took the oath, including C. Miskins [Herts Advertiser, 10 March 1860]. Christopher continued to be associated with the Corps for some years, initially as a Corporal, but he had become Sergeant by 1867 [Hertfordshire Almanac, 1867]. The Corps established a shooting range at Beech Bottom, and its activities were reported regularly by the local press.
James Dixon (1838-?) was his foreman (Two Herts advertiser cuttings)
Little Brick Field, Bernards Heath
Map or booklet Showing location of his brick field
Building in Sandridge Road circa 1905
Jacob Reynolds bricks ...
If you can add to the information given above tell me.