The Heath Farm Family

Sandridge 1892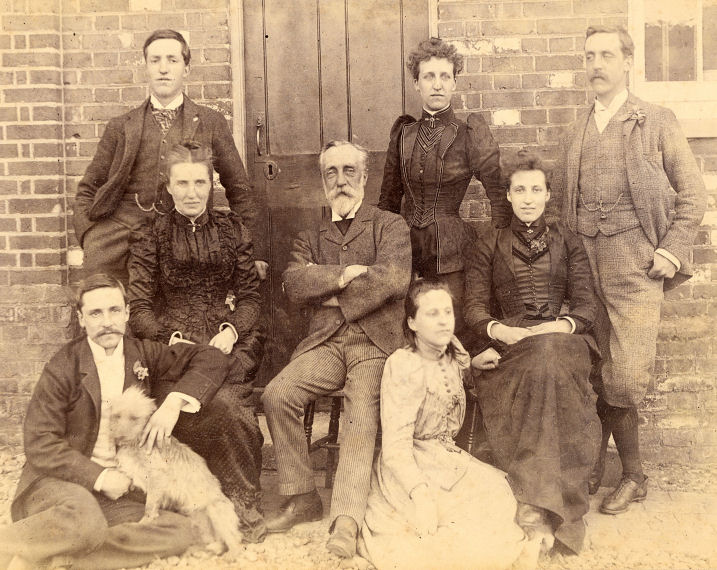 The Reynolds Family outside the back door of Heath Farm in 1892
John Lizzie Harry
Ellen Jacob Rose
Frank Ellen (Nellie)
Back Row
Arthur John Reynolds (1870-1959) married Lily Barker (1874/5-1965) at Kimpton and farmed Cheapside Farm, Sandridge (whose fields adjoined Heath Farm). After Arthur Martin died he also became (for a short time) the manager of Heath Farm Dairy, and later farmed Sandridgebury Farm, before retiring to St Albans. For a time he was a councillor on Sandridge Council. Their son Eric Vincent Reynolds (1904-1993) was Headmaster at Stowe School but retired early to St Albans after a climbing accident. He was a church warden at St Peter's Church.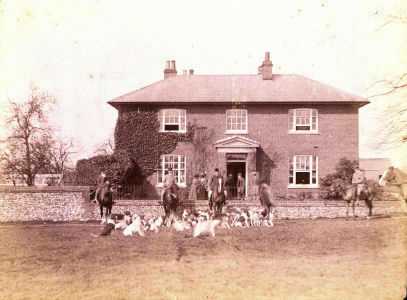 Lizzie Gertrude Reynolds (1867-1952) married Cecil Scott (1862/3-1925) of Oster Hills, St Albans at Sandridge.
Harry Finch Reynolds (1865-1947) married Sarah Constance Cox (1867-1935) at Harpenden. Sarah's father Henry Cox (1826-1882), had been born at Hammonds Farm, and moved to farm at Redbourn when Jacob Reynolds took on the lease of Hammonds. Harry had trained and worked as a vet, living at Calverton, the prominent house at the north end of St Peter's Street, St Albans, on land which was almost certainly part of Heath Farm. For a time he was Master of the Aldenham Harriers, who had a meet at Heath Farm in 1911. Between the wars he farmed at Hammonds Farm, Sandridge, and supplied milk to Heath Farm Dairy.
Middle Row
Ellen Reynolds nee Smith (1840-1836) was born in Wiltshire but in about 1845 her father Dolphin Smith (1805-1885) moved to Water End Farm, Sandridge (now in Wheathampstead). In 1864 she married Jacob Reynolds, and lived in Hammonds Farm, and then Heath Farm. In 1931 Heath Farm Dairy was sold off, and apparently she spent the last few years with her daughter, Rose, in Sandridge Road, St Albans.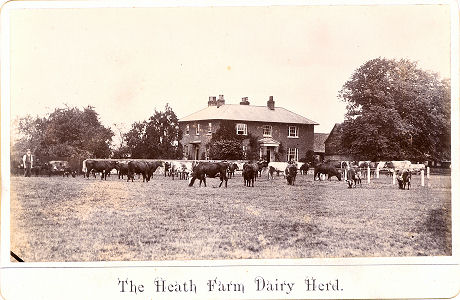 Jacob Reynolds (1835-1926) was born in Norfolk and came from a farming family, but his father Francis Evered Reynolds (1804-1874) abandoned the family in the 1840s and by 1861 Jacob was London manager of his uncle's firm as agents for Lawes Patent Fertilizer (J B Lawes, Rothamsted, Harpenden). Having come into money following the death of his mother and an uncle he took the lease of Hammonds Farm, Sandridge, from Henry Cox (1826-1882). By 1872 he had moved to Heath Farm, and with interests in farming, a growing dairy business, the sale of fertilizer and animal feeds, and late bricks is best considered to be a flexible businessman. When parts of the farm were developed for housing he became a churchwarden with responsibility for Sandridge New Town and was active in the formation of St Saviour's parish and the building of the church. For a time he was Alderman on the Hertfordshire County Council.
Rose Mary Reynolds (1872-1948) married Arthur Frank Martin (1879-1922) at St Saviour's, St Albans. Arthur was manager of Heath Farm Dairy. Rose continued to live in the area, in a house in Sandridge Road, St Albans, that was built on part of Heath Farm, after her husband died.
Front Row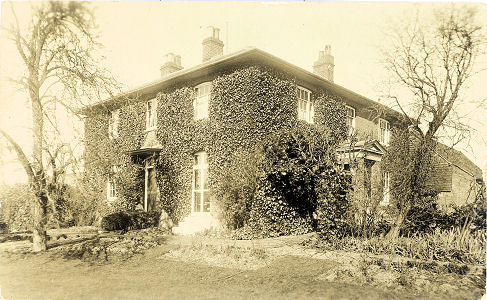 Frank Ernest Reynolds (1869-1949) married Isabel Gibson Brough (1871-1936) at Harwick, and qualified as a doctor working at Totnes and Watford. He retired to a house built on part of the Home Meadow of Heath Farm, and his daughter Leila Margaret Reynolds lived there until her death a few years ago.
[I don't know the dog's name]
Ellen Frances Reynolds (1875-1950) married Richard Thomas Grove (1874-1937). While they did not live in St Albans one of their children, Beryl Elizabeth Grove (1906-1991) was brought up by her Aunt Rose, and later lived in the ground floor flat at Heath Farm, until it was demolished and the site redeveloped. She started to research the history of the farm, and inspired me to follow in her footsteps.