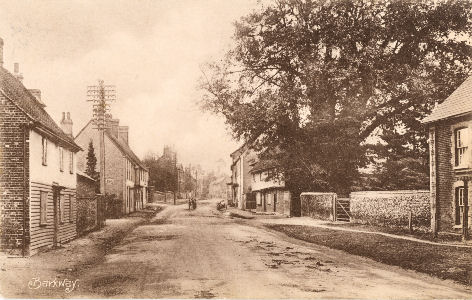 High Street, Barkway, Robert H Clark series - Posted 1920
BARKWAY is a parish and village in Edwinstree Hundred, 4 miles south-by-east from Roysston, and 4 miles north-east of Buntingford, on the Cambridge road. The area is 5,080 acres, and the population in 1841, 1,291. The assessment to the Property Tax in 1815 was £3,871, and in 1842, £5,150. A fair is holden on the 20th July. The church is dedicated to St Mary Magdalen, and is handsome, with fragments of old stained glass in the windows, forming part of a series representing the creation. The living is a vicarage, valies P.R. £512 per annum, in the incumbency of the Rev Robert Samuel Battiescombe. Here is an Independent chapel and a National school, erected for the education of the children of Barkway, Nuthampstead, Newsells Bury and Reed.
NUTHAMPSTEAD is a hamlet of Barkway, 1½ miles south-east, with a population of 289, assessed at £2,041.
NEWSELLS BURY, belonging to the Rev Leveson Vernon Harcourt and the Hon. Caroline Mary, his wife, is a hamlet of Barkway, three-quarters of a mile north, with a population of 155. COCKEN HATCH is the seat of Lady Louisa Clinton, a quarter mile to the east.
NEWSELLS BURY [repeated in original] is a scattered hamlet, 1 mile south-west, with a population of 155.
From Post Office Directory for Hertfordshire, 1850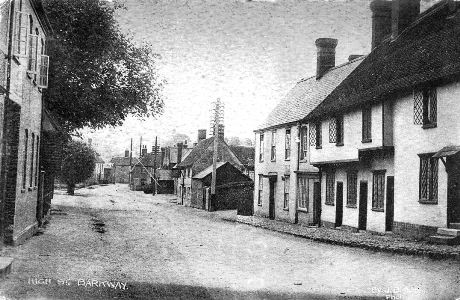 High Street, Barkway, circa 1910?
---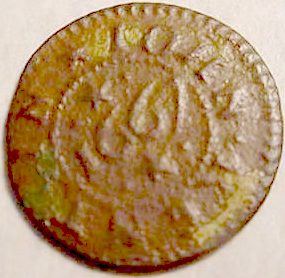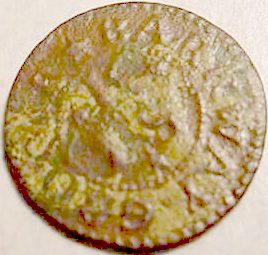 1667 token of John Kent, Grocer, in Barkway, Herts.
as offered for sale on eBay
---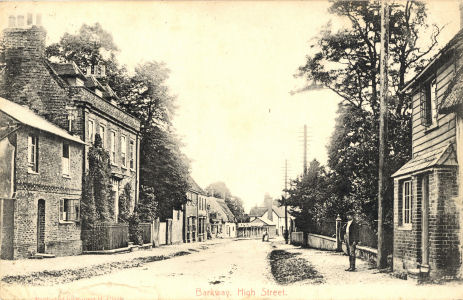 High Street, Barkway, Robert H Clark series - Posted 1905
[click on picture for larger image]