The following description comes from Guide to Hertfordshire, by An Old Inhabitant (1880)
Two miles and a-half north-west of Rickmansworth, is the Hamlet and Ecclesiastical District of Chorley, or CHORLEY WOOD, founded in 1845. Christ Church was entirely rebuilt in 1870, with the exception of the tower; it is Early English or the 13th century, and consists of a nave, chancel, north aisle, and tower, with one bell. There are some fine stained-glass windows, a richly decorated chancel roof, and a beautiful altar­piece representing the adoration of our Lord. The Church possesses a good organ. The living is a Vicarage, of the annual value of £392, with a residence, in the gift of trustees. The CEDARS is a fine mansion here, the residence of J. S. Gilbert, Esq.; it takes its name from the magnificent cedars which abound on this property. The population of Chorley Wood is 995; the number of acres, 1,825.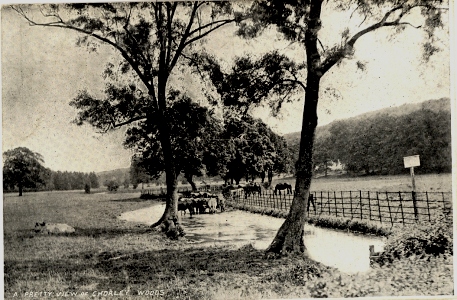 A Pretty view of Chorley Woods
Chorley (or Charley Wood) is an ecclesiastical district, 3 miles north-west [of Rickmansworth], with a population in 1851 of 938. The church is named Christ church. The living is a perpetual curacy, annual value £40, in the gift of Mr. Hayward, and held by the Rev. Arthur Scrivener, M.A. Here is a Baptist chapel. Soles Mill is on the Chess. Currants Bottom, Long Hill, and Catlip (or Gatlets) lie to the south.
Post Office Directory for Hertfordshire, 1866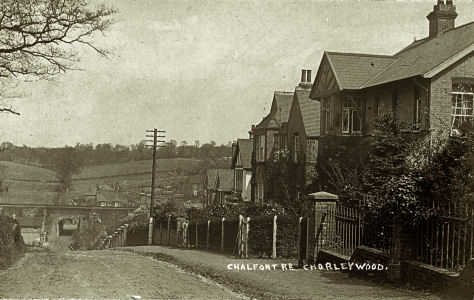 Chalfont Road, Chorleywood - pu c1905