Hitchin Personalisies

1805-1870

Quaker & Artist

1882-1949

Local Historian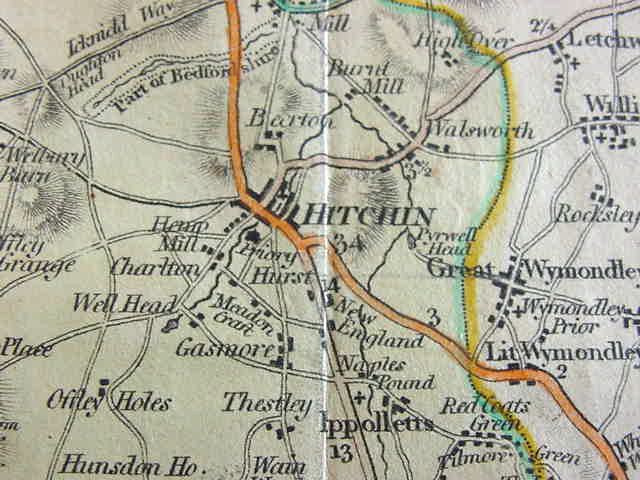 Detail from Charles Smith's map of Hertfordshire (1808 edition)
---
Book: Survey of the Royal Manor of Hitchin, 1676 - paints a vivid picture of the town with many names. Two examples have been posted to show the kind of information that can be gleaned from it.
Book: The Book of Hitchin - a Barracuda local history published in 1981
Book: Hitchin in Camera, A Hitchin Century in Camera, Hitchin in Old Picture Postcards and Hitchin Villages in Camera all contain old photographs.
Book: The Radcliffes of Hitchin Priory by Ron Pigram; A Brief History of Hitchin Priory
Book: Down and Out in Hertfordshire: The Old and New Poor Law in Hitchin.
Book: Handbook to Hitchin & the Neighbourhood - 1899 history, directory and trade adverts
Book: Market Town
Book: Old Hitchin - photographs by T.B. Latchmore (1832-1908)
Book: Hodgson & Hankin: A Fishy Tale of Old Hitchin
Book: Hitchin Historical Society has published some interesting booklets including The Street Names of Hitchin, Joseph Ransom's Naturalist's Notebook, Early Education in Hitchin, The Formative Years of Hitchin Boy's School (1900-1975) and many others.
Books by Pat Gad: Hitchin Inns and Incidents; Fifty Years of Change in Hitchin; Hitchin Past and Present.
Book: The House that Bartlett Built - An excellent example of the history of a single large house.
Book: Hitchin, A Photographic History
Book: Lust, Dust & Cobblestones - Life in Hitchin based on the contents of the Hertfordshire Express between 1900 and 1913
---
Census: Hitchin 1801 & 1807 census - Interesting early survivals.
Census: HALS runs an online teaching data base which includes a transcript of the people in the Hitchin Workhouse in 1891.
Directories: Hitchin 1794
Ephemera: In 1929 the Duchess of York (later Queen Elizabeth, the Queen Mother) opened the New Wing of the North Herts and South Beds Hospital. The Souvenir Programme includes a history of the hospital, and many local business advertisements. (The Queen Mother's tutor lived in Dacre Road, Hitchin, where some of her education took place. See Hertfordshire's Queen.)
Memorial Inscriptions: A list of the memorials in the cemetery is being prepared and those so far recorded are on the Jeffery.Knaggs Homepage.
Topic: Watercolour Paintings of Hertfordshire by E A Phipson
Topic: Royal Engineers Signal Depot Camp, Hitchin, World War One
For information on the southern end of Bancroft see Golden Square, Hitchin
Web Site: Hitchin History Society
Web Sites: Hitchin - Two local sites which include pictures and information of possible interest to the family historian.
Web Site: The British Schools Museum is well worth a visit.
Web Site: North Hertfordshire Museums - details of Hitchin Museum, including an outline of resources available to the researcher, and some down-loadable files.