Watford
"Home Page"
Adjacent Parishes: Abbots Langley, Aldenham, Bushey, Kings Langley, Pinner (Middlesex), Rickmansworth, Ruislip (Middlesex), Sarratt, St Stephens (St Albans)
Watford is an ancient market town which developed along the main road from London to Birmingham via Aylesbury. Since the coming of the railway in 1837 Watford has grown rapidly and is now a major centre of population. For this reason the information on the town has been split up over the following pages: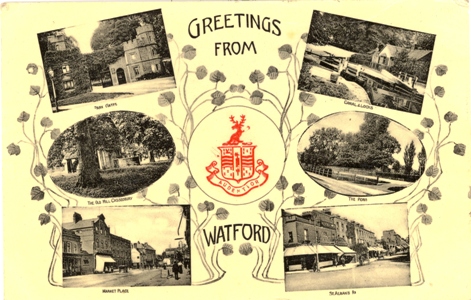 Published by The London View Co. Ltd.. Posted 1906
Over the years many people have suggested various ways in which Watford got its name, and Saunders' History of Watford gives details of some of them. Chauncy suggested the name was from "Wetford" - a deep ford that wetted the users. Cussans suggested "Wadeford" because the ford was midbody deep. Others have suggested "Watlingford" because it is on a branch of Watling Street. Saunders considers the possibility that it was "Wata's Ford" after some otherwise unknown Anglo-Saxon called Wata. The Place-names of Hertfordshire records early spellings as Watford, Wetford, Wathford and Watteford and suggests that the original Anglo-Saxon name would have been something like Wathford in modern language, and meant a ford which is used by Hunters. All we know for certain is that the name dates from before the Norman conquest and its origin is speculation.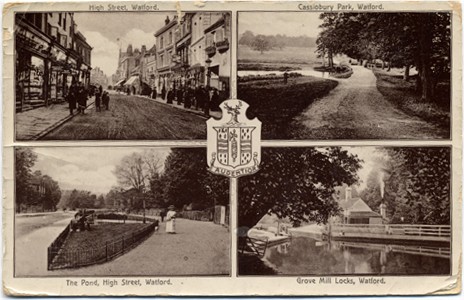 Published by H. W, Rawlings, High Street, Watford. Posted 1912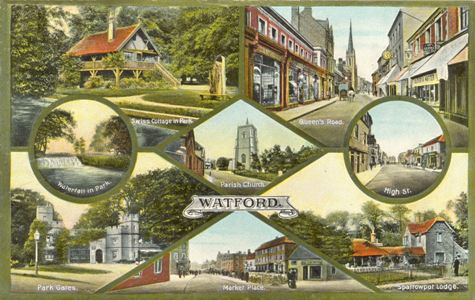 Published by Jackson & Son, Publishers, Grimsby. Posted 1912
See also Vital Records
Page updated October 2008