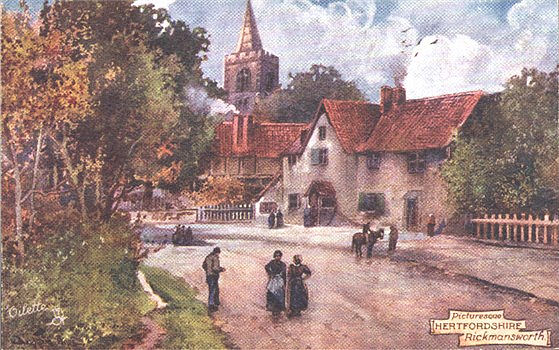 Oilette series postcard by Raphael Tuck & Sons
Rickmansworth is pleasantly situated in the south-east corner of Herts, in the middle of charming country. It is a popular resort for angling enthusiasts, the rivers Colne and Chess offering good trout, pike, perch and other fishing.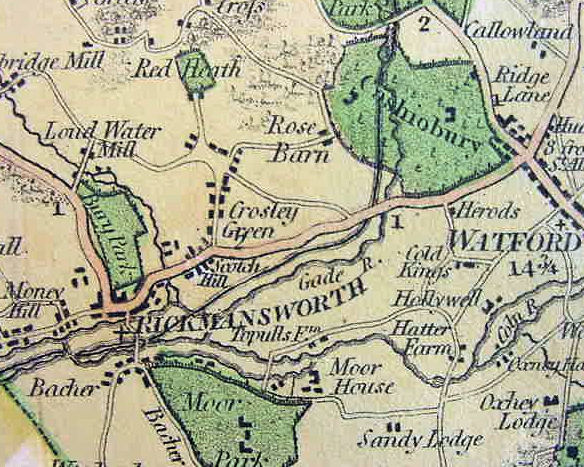 Detail from Charles Smith's map of Hertfordshire (1808 edition)

Rickmansworth, alias Rickmersworth, is a market town on the River Colne, Grand Junction canal, and Aylesbury Road, 4 miles south-west from Watford station, 18 miles from London by rod, and 20 by railway. It is in Cashio Hundred and Watford Union, with 9,740 acres, and a population of above 5,000. The assessment to the Income Tax was, in 1842, £18,962. Here are cotton, flour, paper and silk mills, and an extensive brewery. The market day is Saturday, but in consequence of its near connection with other market towns, it has for some time been discontinued, and fairs are held on July 20 and Nov 24 for cattle; and a statute fair on the Saturday before the third Monday in September. The church, lately rebuilt, is dedicated to St Mary, and is large, with a nave, two aisles, chancel and handsome embattled tower, which is ancient; a fine painted window, 300 years old - it was taken from the church of St John at Rouen, and sold in the revolution, and purchased by the present vicar of Rickmansworth for 100 guineas, and monument of the Monmouth family. The living is a vicarage, in the archdeaconry of St Alban's and diocese of Rochester, valued at £310 per annum, and in the gift of the Bishop of London. There are Dissenting Meeting houses, National and British and foreign schools, and ten almshouses. Moor Park, 2 miles south, the seat of Lord Robert Grosvenor, so much admired for the variety and beauty of its scenery, is a magnificent mansion of Portland stone, which was the residence of Cardinal Wolsey and the Duke of Monmouth. At Warren Hill is a remarkable echo.

Batchworth, Mill End, Chorleywood and Croxley Green are hamlets belonging to this parish. Batchwood is a hamlet with 605 persons. At Chorleywood and West Hyde there are district churches, At Mill End is a Baptist chapel.

Post Office Directory for Hertfordshire, 1851

Other accounts of the Town featured on this site

Rickmansworth in 1807 from The Beauties of England and Wales

Historical Sketch of Rickmansworth (1870)

Rickmansworth in 1880 from Guide to Hertfordshire

Some Books on Rickmansworth
Historical Sketch of Rickmansworth (1870)
There are a number of post-war books which each contain a large number of pictures of the town and surrounding area as it was, with short historical descriptions.

Rickmansworth, a Pictorial History
Around Rickmansworth
Rickmansworth & Chorleywood in old picture postcards
Rickmansworth - A Glimpse of the Past
Rickmansworth. Chorleywood & Croxley Green
Amersham, Chesham & Rickmansworth
Some of the books on Watford, such as the 1906 Homeland Guide Watford and its surroundings include information about the area.
The Chartist Land Company - The foundation of O'Connorville at Herongate
Walkers' of Ricky (building canal boats at Rickmansworth)
The History of the Royal Masonic Institution for Girls
Explore the Canal: Rickmansworth to Watford
Industrial Archaeology of Rickmansworth
Rickmansworth Park, Hertfordshire
Ricky: The Story of a Sailing Club
Some Web Sites relating to the history of Rickmansworth
Three Rivers Museum of Local History

Rickmansworth Historical Society

Norman Lucey has a web site which contains a short history of Rickmansworth and some pictures.

The Seat of Roberts Williams, Esq.

If you want to link directly to the Rickmansworth pages please use the URL

January 2010
Major reorganisation with many new associated pages and pictures
April 2012
Links to four new booklets