| | | | | |
| --- | --- | --- | --- | --- |
| Kings Langley: Two new pictures of the parish church. An earlier picture of the interior was removed as it was discovered to be an error - Sorry. [All significant links are now in position - but some editing and final testing still needed.] | | | | |
Thursday, 24th June

How Long is a Generation? The following comes from Hertfordshire Obituaries 1801-1837, recently published by the Hertfordshire Family History Society:
2 April, 1819. At Standon, Herts, Richard GOFF, at the extraordinary age of 113years. He left a wife in her 47th year, and three children, the eldest of which is but 17 and the youngest 2½ years old. Goff is a native of Ireland. He attended Royston and Stortford markets for many years. His hair and beard were very white, which gave him a patriarchal appearance; and he appeared sensible to the last. His portrait has lately been published.
Becoming a father at 110 is exceptional, as was a case of a grandmother at 26 that was reported in the tabloid press about a year ago, However many people new to genealogy forget the uncertainites and ask questions about their great great grand father without including any dates. This can leave the reader to guess, not only the length of generations - but also whether the writer is aged 9 or 90. Always remember that an approximate date (at least to the half century).is always better than nothing when you are making an enquiry - or replying to someone else.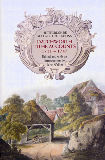 Datchworth Tithe Accounts 1711-1747: This book has just been published by the Hertfordshire Record Society. It is obviously essential reading for anyone whose ancestors lived in Datchworth in the first half of the 18th century. However Datchworth was a typical rural parish, and while the names may be different the general scenario will be similar to that faced by your forebears. The Introduction includes a very full discussion of the history and collection of tithes and also has a good look at farming practices, while the accounts give a good indication of the prices being obtained in Hertford market. Noteworthy people associated with the parish were the Rev. William Hawtayne (whose account book it was); William Butterfield of Hawkins Hall; Daniel Crawley, yeoman; William Dards/Deards, butcher; John Flindall of Swangleys Farm; William Game of Raffins Green Farm; Edward Harrison of Balls Park, Hertford; Thomas Kimpton of Swangleys Farm; William Kimpton, farmer; Robert King of Raffins Green and Bragbury End; William Robinson Lytton, with links to Knebworth House; William Lytton, rector of Knebworth; Rowland Mardell of Bridgefoot Farm; William Wallis of Datchworthbury and MP for Steyning; James Whitehall at Datchworthbury. Many other people are listed in a comprehensive index.
Reorganisation of Place Pages - Kings Langley
It has been decided to reorganise the web pages of Kings Langley to bring it up to date in terms of navigation. A new menu has been created and pictures and text have been reallocated. The work is still "in progress" and a large number of links still need to be changed to load the new menu. So far no new information has been introduced - but at least two pictures, and some text will be added later. The aim is to complete the changes by the end of the month.
Some messages received: Philippa provided some information on James Grey, who married Elizabeth, daughter of the St Albans brickmaker, Benjamin Fowler 1764-1821.
Ruth provides some additional information for the page SCOTT, Oster Hills, St Albans, late 19th century. While I am sure that her Walter Scott is the 2 year old boy staying at Oster Hills in 1851, the matter is complicated because three Walter Scotts were born is Islington in 1848/9 and there appears to be a double entry in the census returns.
Bartek failed to realise that this is a non-commercial site which gives impartial advice and his commercial spam went straight into the bin. (I actually get 20-25 spam email messages a day - which are automatically deleted by my spam filter - but it is rare for anyone to log into the site and waste their time and mine by trying to get me to plug their probably useless products.)
Wednesday. 23rd June
Hunting down a roving land agent: Ian's ancestor Richard Morrison certainly got around as at the age of about 25 he married and had children who were baptised at Shenley (almost certainly in part of what is now the parish of London Colney). Later children were baptised at Tottenham, Middlesex, and he later worked in Kent before ending up with the Duke of Northumberland at Alnwick where he died at about 55. If your ancestor moved around (perhaps because they worked for one of the super-rich of the time) or if they were a land agent, you might find some useful ideas on tracking them down in Morrison, Shenley, 1817-1830. One of the outstanding tasks is to try and identify where he was living in the Shenley area - and who was his landlord or employer.
Distracted by Tennis: I had planned to do more on this web site today - but got distracted by Wimbledon - and decided to watch until the match finished. It proved to be a real record breaker and was suspended for bad light when the score in the 5th set was 59 games to 59 - with play having lasted 10 hours!
Tuesday, 22nd June

Sacombe: Having taken a few days break from this web site I have started to catch up on the pictures I took last Saturday by creating some proper pages for the tiny parish of Sacombe. In addition to pictures of the church, and ancient gravestone and the war memorial, I have added an account of the parish from 1880 and the description of a storm at Sacombe Park in 1786. I have also added a number of useful external links.
Saturday, 19th June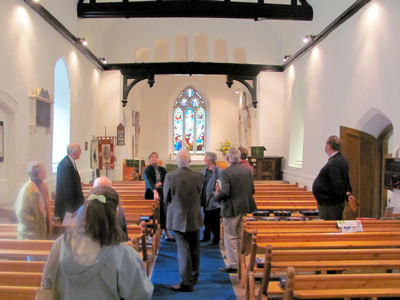 The H.R.S. at Bramfield
The Hertfordshire Record Society had their Annual General Meeting at Bramfield this afternoon. A full report was given of the publication programme, with several future books in preparation, together with the Tithe map of Barnet. A list was circulated which show that while nearly all the published volumes are in stock, in many cases the number remaining is low (so get in quick with your orders). It was announced that the web site is in the process of being upgraded. The highlight of the meeting was the launch of 2009 volume - Datchworth Tithe Accounts 1711-1747. After refreshments many of those attending visited Bramfield Church.
I used the opportunity of my visit to Bramfield to take a number of photographs of the area to fill in some of the gaps on this web site. These include interiors and exteriors of Sacombe. Little Munden and Bramfield parish churches, and exterior shots of Waterford Church and the Methodist Chapel at Watton. Other photographs include the old blacksmith's shop at Danes End and a cottage at Whempstead. It will take some time to prepare updates using selected photographs, and the updates will be reported on this blog.