Following the posting of Mystery Photograph, Letchworth Garden City, circa 1910 earlier this month (see blog) Keith reported that by the time of the 1911 census :Arthur John Conder and his wife Margaret Conder were living in Hill House, No 145, Baldock Rd (see photo). Her husband had a small 'farm' at the back growing fruit and veg for which he sold in Letchworth from the back of his horse and cart. Can anyone who knows modern Letchworth say whether the house in Baldock Road is still there - and also whether the analysis of the first photograph is correct?
Paper Making in Hertfordshire: The Paper Trail is a Heritage Site celebrating the origins of the mechanical paper making in Hertfordshire. When I cam to publish details of this summer event I decided that the subject of paper making needed some attention. There is now a Paper Making page,

The Paper Trail Summer Event

17-18th July

Emergency Vehicle Extravaganza

Canal Trips, View Frogmore Mill, etc
Hertfordshire Countryside: The July issue is now out and I enjoyed the article The Patron Saint of Horses whish deals with the patron saint associated with St Ippolyts. There was a longer article on Historic Hertford and a shorter article on Eastwick Manor. There was an article Redbourn 900 describing plans to celebrate of 900 years of the village's existence, but neither the article or the www.redbourn900.co.uk web site included any significant amount of history!
Some More Hertfordshire Books: At their monthly meeting the Herts Local History Society has a box of books/booklets which members can borrow. I noticed these four titles last year but didn't get round to putting details on this web site - so here they are.

Friends' Meeting House, Hemel Hempstead
The Deacons of Corner Hall [Hemel Hempstead]
Sandridge Parish War Memorial
Agricultural Workers of The Camp, St Albans
Using pictures from this web site: James is moving to Bushey and wanted to uses some Raphael Tuck images for his web site. The situation is that nearly all of the post cards I use are out of copyright - and I own the copyright of the digital image. In these cases I have no objection to you using the images for non-commercial purposes on your web site or in your family history - as long as you quote the source as www.hertfordshire-genealogy.co.uk. In many cases I can also let you have high resolution scans which, for some postcards depending on how they were originally printed, will allow reproduction up to at least A4 size. This service is free but, as always, donations for mental health are always appreciated if the result is satisfactory.
Thursday, 8th July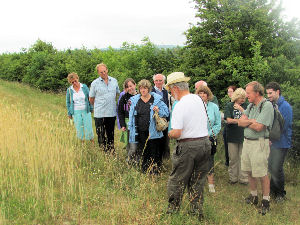 Agriculture ain't what it used to be: Last year I was walking along a footpath beside a huge field of wheat and I was interested to see that one poppy had succeeded in growing. Such uniform fields of crops are commonplace today, thanks to the widespread use of modern weed killers, etc., but would have seemed strange to our Hertfordshire Ancestors. Yesterday I was at College Lake Nature Reserve, near Tring, to celebrate the fact that the Beds, Bucks and Oxon Wildlife Trust was 50 years old this year. One of the organised walks was to see the Agricultural Weeds Project where wheat is grown and harvested as it would have been done in the past. As a result of careful management the plot now supports a wide range of annual wild flowers which would have be well known to farm workers 100 or more years ago. By the time of our visit most of the flowers were over - and a visit in June would have been more colourful. [This reserve is just over the county boundary into Bucks, but the Herts & Middlesex Wildlife Trust also has many reserves which help to preserve small parts of the landscape as it was.]
Descendants of fellow criminals get in touch: In 2005 Sylvia asked about her ancestor George Bowman, who had sent to St Albans prison in 1891. along with John Boxhall.. Now Linda, who is a descendant of John Boxall is hoping to contact Sylvia. This all goes to remind us that for many people the most useful surviving records are often those connected with criminal activity. See BOWMAN, South Mimms & St Albans Prison, Late 19th century.
A Bit of Site maintenance: In connection with the above item I discovered that about ten of "Answer" pages from 2005 and 2006 had incorrect titles and in some cases wrong keywords - problems that are only really important when pages are being found by search engines, such as google. As a result I have corrected the omissions, and at the same time reformatted the pages to the current normal format. I also found the following answer pages were not currently accessible:
BARNETT, Watford Area, mid-19th century
WOOLLATT, Sandridge, 19th Century
Wednesday, 7th July
Society of Genealogists: Much of my early family history research was done in the Society of Genealogists in London - and some of the key information on my Norfolk ancestors came from notes left by Harvey Bloom, who was active there in the early days of the Society. I see that the Society celebrates its 100 anniversary next year and is currently planning to digitise many key records. A recent leaflet says:
One of our aims is to digitise our most frequently used records and collections to prevent any further damage and to ensure their preservation for future generations. The Bank of England Will Extracts, for example, date from 1717 to 1845 and were due to be destroyed before the Society salvaged them in 1985. These fascinating documents include extracts from the wills of Charles Dickens, The Duke of Wellington and Lord Nelson. This collection will be one of many that will be preserved by digitisation. As well as making our records and collections available online we plan to make more educational material available such as the 200+ courses and lectures that we host each year. This will ensure that no one misses out on the chance to start or further their family research.
They are trying to raise money to advance such activities. You can help in a number of way, including becoming a Friend of the Society of Genealogists, see their web site for details.
New information on Wheathampstead: Anthony contacted me from Denmark to tell me the excellent web site Wheathampstead.net has been extensively updated since I first reported on it. In particular the section Early Families of Wheathampstead contains much new material.
Don't forget the Tring Villages: On 28 June I raised the question of books that failed to end up in the copyright libraries. More ephemeral material is even more likely to get lost and on Monday I called into the Tring public library to look at their local collection. I immediately discovered that they had no copies of the excellent local monthly news magazine Village News: Puttenham, Wilstone, Long Marston, Little Tring. This often includes news of historical interest, written by people with considerable local knowledge. Hopefully the library will get copies in future. Fortunately the most recent issues are available online at the Tring Rural Parish Council web site or at the Wilstone web site.
Tuesday, 6th July
Some useful local contacts: (Can you tell me of others I have missed)
Monday, 5th July
Visitors to the Site:
| | | | |
| --- | --- | --- | --- |
| Month | Unique Visitors | Number of Visits | Pages Accessed |
| Jan 2010 | 16488 | 20790 | 62915 |
| Feb 2010 | 14817 | 19005 | 54272 |
| Mar 2010 | 16941 | 21575 | 60288 |
| Apr 2010 | 14673 | 18233 | 50986 |
| May 2010 | 15424 | 19320 | 49212 |
| Jun 2010 | 13755 | 17460 | 45260 |
| Per Day | 512 | 647 | 1794 |
| Per Hour | 21 | 27 | 75 |
It is interesting to see where visitors came from. In June 20% of the visitors entered using the direct entry address, 72% went straight to a specific page from a search engine (about 90% of these from google) and a surprising 7% entered using direct links from other web sites. This points to a problem as it would seem that many of these references are out of date - leading to the dreaded "404 page not found" error. As a result I am making enquiries to see if anyone coming in with an out-of-date page URL will get a friendly message and be redirected to the home page.
There is one disappointing feature of the statistics. While there have been some very generous donations from some individuals to support the site's dedicated mental health charity, Herts Mind Network, the average donation works out at a mere £0.0023 per visit. If you use the site regularly have you made a donation recently.
Sunday, 4th July
Mystery Photograph, Letchworth Garden City, circa 1910: Keith reports that this picture is said to show his ancestor at Paddock Close, Letchworth, and wants to locate where it was taken. Google/maps show that Paddock Close was a circle of early garden city houses, and it is clear that they are not shown in the picture. By carefully examining the picture it is suggested that the footpath across the field might have connected Baldock Road with Paddock Close. It is nice to speculate that it show Mary Condor walking home on a Sunday summer afternoon carrying a bg of goods purchased in Hitchin market! Can anyone confirm the identification of the view - or suggest another alternative?
In answering the above query I also updated the external links on the Letchworth Garden City page.
Charity and the First World War: To raise money for the mental health charity Mind I am currently selling copies of my book about Hemel Hempstead, The London Gunners come to Town, on ebay at £10 per copy, post free, with at least £2.00 of every sale going to charity. [Ebay reference 130406822666. 130406830274] The rest of any money raised will be spent on upgrading the library which supports this web site.
Saunders of Hemel Hempstead and Redbourn: Katherine provided some useful additional information on the family which illustrates how useful finding a will can be.
Lock Keeper's Cottages: Only 24 hours after posting the picture of Lock 39 Donna's update Lock Keeper's Cottages, Bulbourne, 19/20th Century fills a gap in the list of canal worked that have lived in the cottage by Lock 39.
Saturday, 3rd July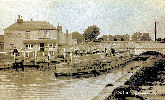 Saving Water on the Grand Junction Canal: I have just acquired a very interesting post card of a lock on what is now known as the Grand Union Canal. When the canal was very busy in Victorian Times a number of modifications were made to speed traffic and/or conserve water. This picture (from a very faded original) shows one of the additional narrow locks that were installed on the canal north of Tring Summit. The lock (No. 39) is at Startops End, Marsworth, and is actually about 100 yards inside Buckinghamshire. However it is appropriate to include a mention on this Hertfordshire site because it is an important part of the canal complex in the Tring area.
Friday, 2nd July
Is this the missing WW1 Army Camp?
Where was Britons Camp, St Albans? Many photographs survive, but apart from one which shows that it was in a shallow valley with road running through it and a wood in the distance, there is no firm evidence as to where it was. John has kindly supplied the above photograph of fields just north of Sandridge which shares some similarities with the site of the camp. One re-examining the original photograph, and looking at a 1884 O.S. map and Google maps (satellite and street views) I have concluded that while the above picture does not match the WW1 photo, the valley could well be the site, if there were high trees along the south of No Mans Land Common at the time. I have my doubts - but it could be what we are looking for. Can you help in the search to locate this large army camp?
B.T.W. Quite by chance the area in the photograph, and the candidate site for the military camp, are part of Heartwood Forest.
Some more post cards of Watford

Queens Road
London Orphan School
Railway Station
Thursday 1st July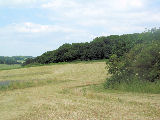 Towards Pudler's Wood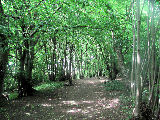 In Langley Wood
Why not plant a tree for your Hertfordshire Ancestor
: Before the Iron age much of Hertfordshire was covered by forest, and there has always been a need for woods to provide timber and fuel. A few ancient woods (much changed by woodland husbandry over the years) survive and the
Woodland Trust
has now acquired some 800 acres of farmland near
Sandridge
, immediately south of
No Mans Land
Common. The area includes some small surviving old woods. The
plan
is to plant some 600,000 trees in coming years to recreate a significant forest area less that 25 miles from central London..
The area is of particular family interest in that my first home (until the age of eleven months) was in Sandridge and my ancestors have farmed in the immediate area for several hundred years. In fact a small spinney close to the east boundary of the new forest area was planted on Hammonds Farm by my father some 89 years ago.
A spell of fine weather (actually really too hot) tempted me to visit the new forest yesterday. Much of the area is still large open fields, although there were small patches planted last year with very young trees, almost invisible in the distance because of the length of the grass. However in a few years major changes will start to show, and the whole area will be a great haven for woodland animals and plants for future generations to see and admire.
So why not visit the Woodland Trust's Heartswood Forest page - and even better plant a tree (or trees) for your Hertfordshire ancestor(s). If you live in England you could also come to Sandridge on 28th August and attend the HeARTwood Festival, the annual family summer festival celebrating trees and woodlands through art.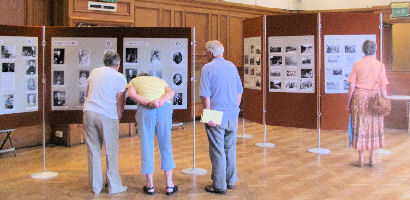 Berkhamsted Local History & Museum Society Exhibition: The Society was celebrating 60 years of existence and at the time of writing the exhibition is still on (until Saturday July 3) at the Berkhamsted Civic Centre. The exhibition consisted of a large number of informative display boards - the people in the picture are looking at portraits of people with historical connections with the town. There were also several display cases of objects connected with the town - including a 2nd world war gas mask - of the kind I played with once the war was over and they were no longer needed. There were a good display of publications on sale - including some by the Dacorum Heritage Trust - most of which were known to me although they are not all listed (yet) on my web site. I was most interested to see copies of the annual journal The Chronicle, and noted several articles of interest. I gather Volume VII will be published shortly - and I may well include a review page later highlighting some of articles which will be of wider interest.
I fully realise that many of the readers of this blog live far to far away to attend - but if you are researching your family history it is useful to know something of the local family history organisation. Some, like as the Berkhamsted Society mentioned here - are a source of excellent local history publications, and there is a wealth of local knowledge among their members.
Reorganisation of Front Pages and Blog
Comments received over the last few moths suggest that the Blog is a very useful facility, particularly for regular users. In addition it is believed that most people who visit the site for the first time find it using search engines such as Google - and information on the latest changes is not relevant for them. For this reason it has been decided to drop the monthly summary of updates as a low priority. This allows the home page to be greatly simplified, as the very long lists of updates were rather overpowering. The welcome page has also been simplified and the aim will be to change the picture at frequent intervals. Further changes are planned in July to the Introduction, Tell Me and Ask Chris pages to bring them fully in line with the existence of the blog and the Guide to Old Hertfordshire.