Genealogy in Hertfordshire

Editorial Blog

August 2010 Archive

This Blog is to provide up-to-the minute information on updates together with some background on how I run this web site, plus more general genealogy news.

If you have any Hertfordshire history news that should be reported here, please Tell me about it
For more recent items see the Current Blog
Tuesday, 31st August
Ask the "Agreeable Historian" about your Ancestor's Village in 1746: I have upgraded the entry for Samuel Simpson's The Agreeable Historian, and the associated Hertfordshire map attributed to Robert Walker. (In fact the book text seems to be identical to that in the The English Traveller.) I have added descriptions, and a map, to Abbots Langley, Flamstead and Totteridge. I will be posting maps and description of other villages and smaller towns, from this source. Tell me which villages you are interested in and I will put them high on my to do list.


More on the Military Update: Over the Bank Holiday weekend there has been a lot of behind the scenes changes. This has mainly meant creating moving information around, creating new menus, and improving page linkages. The biggest change s are related to the book The London Gunners come to Town, where the aim is to link parts of the book to pages which relate to the content - including expanding on topics from the working notes prepared when drafting the book, or relating to material which has become available after the book was published. In addition the talk The Territorial Force in Hertfordshire has now got a menu and improved linkages. Quite a lot more work still needs to be done (and there is a lot more material that could be added) but this will be done on a page by page basis as part of normal updates.
Monday, 30th April
Stage Coaches in Competition with the Railway: In 1837 Richard Gibbs (uncle of the James Dagley Gibbs mentioned in yesterday's blog) offered to be an agent for the London & Birmingham Railway. This very interesting letter throws some light on the collapse of the stage coach trade through St Albans. The analysis also covers the coming of the Watford-St Albans line - and makes a comparison with the very different situation in Aylesbury, where John Gibbs (Richard Gibbs' brother) supported the building of the world's first branch line to a trunk railway line.
Sunday, 29th August

Did your Ancestor sleep in this bed? And who with? As I was relaxing over the weekend I thought - what better place to lie back and rest that a super-extra-large Emperor sized bed. For hundreds of years travellers through Hertfordshire had taken advantage of the Great Bed of Ware. Unfortunately the staff in the Victoria and Albert Museum were not very keen on me taking a cat nap in it!
One of my Relatives had 17 children! I have just exchanged emails with a distant cousin, Christine, from Western Australia - and I think James Dagley Gibbs has set a record on my family tree, He was the nephew of my great great grandfather, John Gibbs, and went to Australia in 1844, to be one of the founders of the Western Australian town of Bunbury. He married twice and fathered a total of 17 children.
Saturday 28th August

Relaxing over the Bank Holiday weekend - Cricket has been played on No Mans Land for over 200 years...
Heartwood Forest is immediately to the south of No Mans Land, and while in the area I took the opportunity to attend their open day.
Thursday, 26th August
Did Arthur run away and join the circus because his parents split up? Maybe Alan will never find out for certain but see FOSTER, Hitchin, circa 1900 for the background.
Another misspelling problem: Occasionally I answer questions on the Rootsweb board - and have just suggested that Helen Handison is actually Ellen Anderson. Perhaps it is time to remind readers of the big differences that can occur between the name (both personal names and place names) that were spoken, and perhaps 150 years later appear in clear type on your computer screen, See for example Problems with finding information in census returns. The prize probably goes to Aspenden ending up being indexed as Hoopston. (Asp being recorded as Hasp, badly written and transcribed as Hoop; en perhaps not recorded properly and squiggle in bad handwriting transcribed as s; den misheard and recorded as ton.)

Connecting with the Railway in 1837: Giulietta has promised to send me a letter written by Richard Gibbs (founder of the Herts Advertiser) relating to the opening of the London to Birmingham Railway in 1837. His brother, and my great great grandfather, John Gibbs, was involved with the building of the branch line from Aylesbury at the same time. A full report will appear as soon as possible after I have seen the letter.
Don't Forget the National Roll: Philip has reminded me that Section V of the The National Roll of The Great War 1914-1918 related to the area around Luton and includes many entries for people from Hertfordshire.
Can You Help?: David is researching PERRIN, The Cottage, Bushey Heath, 1905-1940 and is looking for a photograph of The Cottage.
Meanwhile Claire (claire.harrington @t flintshire.gov.uk) wants to know what happened to the school photographer Percy Alex Buchanan and his business - while I would like to know of any numbered and dated (by postmark, etc) cards to help date other school cards he published.
Heartwood Forest Festival on Saturday - I plan to be there - will you?
Wednesday, 25th August
A Major Update - Military Books: It is clear that quite a few people visit this site directly via the First World War page, possibly as a result of the reference in the book Family History on the Net. For years this page has been little more than a temporary holding page for links to other pages. It was not the most welcoming entry page for people entering the site for the first time, and there were many other "military" pages that were hard to find. . As a result a new military area is being set up - The Armed Forces in Hertfordshire and the old page redirects visitors to the new page. First stage of the changeover is to significantly update the references to 29 books on the military units, etc., connected with Hertfordshire as follows:
The above changes involved changing about 75 pages.
Monday, 23rd August


This Book is definitely not recommended: I recently acquired a copy of Colin Waters' book, Family History on the Net, and includes about 20 references to this web site. Am I pleased with the publicity. No! I think it is dreadful and the book will actually put many beginners off ever researching their family history. Everyone (including me) may discover a few web sites that we didn't know of before, and it may well appeal to the computer geek who collects family history URLs. For the novice (ant it was being sold in an environment that would attract novice purchasers) the book includes virtually no guidance as to how to used the Net for family history and instead gives them lists of URLs (some very long) with little understanding that the reader will need some guidance as to which are the good ones, and which were already out of date when the first edition was published, and were retained in the second edition. I very much doubt that the author has any significant experience in helping beginners using the web for family history.
Sunday, 22nd August
A busy day but little to report at this stage. Four messages in and six messages sent out. Two may well result in new Answer pages. One of the incoming messages was from Genes Reunited about yet another possible ancestor match. I just don't have the time to chase it up - but suspect it may turn out to be based on a family tree I produced over 20 years ago.
I was reminded of my own increasing years when a phone call tells me of another date to be added to my family tree. A close relative (younger than me) passed away today after a long and unpleasant illness. If more young people could see the effects of emphysema perhaps less would take up smoking.
Saturday, 21st August
Family comes first... While I enjoy the time I spend on running this web site tje family comes first - and in September my wife will be going into hospital for a routine operation. This will means some changes on the domestic front and we have decided to get rid of Franci's van (which serves as a second car) and get a mobility scooter - which means changes to the way we use the garage or a new front porch big enough to accommodate the scooter. Other changes in both the house and garden are planned and will keep me busy for the next few months. During this period I will be keeping this site running, with updates most days, and the best thing you can do to help is to keep the messages coming in. My difficulty will be that I won't have spare time to monitor what is going on elsewhere. Please keep me informed of activities by local history societies, museums, etc., including publishing new booklets, etc., and if you can also provide a review this would be particularly helpful. It also helps if you can remember to let me know of any updates to existing pages. Messages on such topics typically take very little time to process - but help keep the site buzzing. So keep those messages coming.


Why did your ancestor lived where they did? Anthony wanted to know why the village of Thundridge has apparently moved. My reply, Village development along the Old North Road, looks at the development of a 17th century "motorway" and the origins of modern Thundridge, Wades Mill, High Cross, Collier's End and Puckeridge.
An apology [Corrected posting first noted on last Wednesday's blog:.] Barbara had a problem (see DEARDS Marriage, Watton/London, 1806). John and Mary Deards raised a family at Watton but the only listed marriage that seems to fit the bill was in London. There is some circumstantial evidence, relating to the names of the witnesses and that of their children, but continuing uncertainty as to Mary's origins. In the circumstances it seems possible to assume you have the right marriage, but to keep a weather eye open for other supporting (or refuting) evidence.
Friday, August 20th
Thanks to all of you who have sent messages in the last few days. Having had few significant emails for several days I took a short break and several of you dived in to send me some very interesting messages. These will form the basis for providing some general advice pages, and I can see myself keeping pretty busy with at least one new page of general interest until the end of the month. ..


How to find out more about that old Beer House. Keith sent a picture of The Star, Baldock, where his grandfather, Willoughby Henwood, had been landlord in the mid-20th century. In answering his question about its origins I have provided a check lists of sources which should be useful for anyone researching the history of a public house through the 19th century and early twentieth century. A particularly interesting feature was that it was a "brewery tap" - meaning a beer house immediately adjoining the brewery, and perhaps even selling the beer directly from the brewery vats! See The Star, Baldock, and the Pale Ale Brewery, 19th-20th century.
Wednesday, August 18th
Tuesday, August 17th
Did your ancestor live close to the Essex Border? If so why not visit the History House. This is a free site, run by Phil George, which contains very useful information on all the towns and villages in Essex, plus other interesting history pages. I had not realised that this site existed until Anthony told me about it - and if you know about similar sites for the other counties adjoining Hertfordshire please tell me.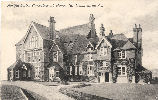 Missing from the Census? Was your ancestor at St Leonards on Sea? In 1880 the Hertfordshire Convalescent Home was opened at St Leonard's-on-Sea, Hastings, for the poor of the county. It remained until 1982, when it was sold and the charity, the Hertfordshire Convalescent Trust was created with similar objectives, but not linked to a particular building..
Monday, August 16th
This is a top Hertfordshire web site says Your Family Tree: The September issue of Your Family Tree contains an excellent 5 page article on researching you family in Hertfordshire. It covers briefly and accurately most of the key points I would want to include, and I actually picked up a couple of things I didn't know. It quite rightly listed HALS online indexes as the top Hertfordshire site, with this site coming second (without even mentioning the background information and pictures on towns and villages, or the question answering service). Third came Herts Memories, which is clearly developing nicely since I noted its arrival on the scene last year.
My only real niggle was with the picture labelled "These houses reflect the county's predominantly rural setting." The picture shows Louisa Cottages, Tring, erected about a century ago in mock Tudor style by Lord Rothschild as almshouses for his employees and are town houses about as typical of traditional rural housing as it would be to use a picture of Letchworth Garden City (also established a century ago) as typical of the ancient Hertfordshire towns.
Did the Suffragettes cut the telephone lines in 1913?: Some old news relating to an incident at Elstree which affected the phones in Hemel Hempstead and Berkhamsted. I have used this item as a chance to update the Gazette web page to include links to all relevant "Old News"
Box Lane Chapel, Boxmoor: Jaquie has written to say that the Chapel was used as a temporary home for the Maude Wells dancing school during the 2nd World War.
Sunday, August 15th
Tracking down a Lock Keeper's Cottage: Col would like to hear from anyone who is related to his Norman ancestor - who is mentioned on the page Lock Cottages, Cassiobury Park, Watford, circa 1900. However his ancestor was born in Marsworth - which is a Buckinghamshire village on the Grand Union Canal just over the county boundary - and I know the area well from having taken Franci for walks. As a result I have tracked down the location of the lock cottage where the family were living in 1841, see NORMAN, Lock Keeper, Marsworth, mid 19th century, and have posted some photographs I took last year. (For some general hints on tracking down your ancestor's home see Locating Census Addresses on Maps.)
Were your ancestors baptised, married or buried in one of these churches?

St Paul,

St Giles,

St James,

Great St Mary,

St Mary

Holy Trinity
Saturday. August 14th

Where to find information on former Public Houses. Lisa's ancestor, Joseph Chapman, was landlord of the Six Bells Public House, Sandon, and this query has been used to bring together the main sources you need when you are starting to investigate the history of a public house in Hertfordshire.

Information on Ippollitts (the most "misspelt" place name in Hertfordshire): Ken asked for some historical background on this village and I have recommended two books by Daphne Rance, St Ippolyts and The Yeomen of Ippolyts, both of which are currently available online secondhand.

A Hemel Hempstead update: Jacquie writes from Australia to tell me that during the 2nd World War she lived in the flat over Frank Barrett Gardiner's photographer's shop

BLARS: The Bedfordshire and Luton Archives and Records Service have their archive catalogue available at www.bedford.gov/archives - which is useful for some across the county boundary problems.

Friday, August 13th

A good example of how the basic search tools can work together. Rick asked about the Hertfordshire origins of Joseph Warren Hart who (HART, Ware area, mid-19th century). The solution demonstrated how familysearch, FreeBMD and the census returns can fit together to produce a satisfactory result, and open opportunities for further research.

Thursday, August 12th

At last, a flood of messages: Last night I came back from Hitchin and before downloading my photos I checked my mail box - and found nothing . AGAIN. I know it is Summer (when it isn't raining) and people are enjoying the bright evenings - or are spending time with their younger family members during the school holidays - but I was getting worried as I had only had one message from the site is a week - and that hadn't justified a public reply. I needn't have worried. Three hours later, when I had posted the initial report on my Hitchin visit, I had three new messages in my mail box and by the time I had read them there was a fourth. I left them all till this morning.

The first was a very quick query about a death which I found in about a minute using FreeBMD, and I emailed the answer suggesting the questioner might find the tutorial useful.

The second, from Jan, was for advice on finding post cards. Jan had noticed that my site included some by W. H. Cox, of Luton, and she was looking for one by him of Stockwood House. While this technically falls outside Hertfordshire it is in the small pocket of land, partly surrounded by Hertfordshire, immediately south of Luton, which also includes Luton Hoo.

Stockwood House was built in 1740 and demolished in 1964. Stockwood Park is open to the public and the old stables hold the Stockwood Craft Museum. It also includes the Mossman Collection of horse-drawn vehicles which is well worth a visit. It is so close to Hertfordshire it really should be listed on this site as a "Hertfordshire" Museum. (see Wikipedia for more information and links).

Judith emailed me to say "In case you hadn't heard, Ancestry has just launched the probate indexes for 1861-1941. Well worth viewing as they give the address & date of death, the name of the executor, & the value of the estate." If these are scans of the original index books - which some 25 years ago I regularly searched at Somerset House - the early entries can include an enormous amount of useful information. Her message reminds me that I need to update some of my references to the rapidly expanding commercial web sites - particularly with respect to the tutorial. There is a problem in that it costs money - and at the present rate donations are coming in, I could run the risk of spending more (from my pension) on subscriptions than I raise for the Herts Mind Network. (Perhaps Mind would be better off if I gave the subscription money to them and abandoned the site!!)

Philip commented on my blog less than 15 minutes after I had posted it He has visited the British School Museum and urged me to "mention that the school has a spreadsheet of the pupils' register which is useful for checking relatives. It gives all the usual info about pupils." He also mentioned a book they sell called Educating Our Own and I can assure him that a review of this book will be included in my fuller report on the Museum later this month.

Thank you, Judith and Philip. This site greatly benefits from the input from the people who visit it. So to all others - have you some Hertfordshire related news that would interest other people visiting this site - and if so why don't you TELL ME now.

P.S. Yesterday I said I wouldn't be posting today. In fact I woke at 6.05 am and came to the computer, and I am just finishing writing this blog at 7.55 am - No more genealogy for me today ...

Wednesday, August 11th

A Tour of Old Hitchin: Today I had to got to Hitchin for a meeting to discuss the relocation of mental health in-patient units within Hertfordshire and took my camera with me to take pictures of this ancient town. Hitchin is one of the major towns whose web pages on this site urgently need restructuring and this seemed a good opportunity to start.

Tuesday, August 10th

18th and 19th century engravings of Hertfordshire: While some photographs exist taken in Hertfordshire from the mid 19th century (see A Hertfordshire Photograph from 1855) they only became commonly available with the coming of the post card at the turn of the century. However many books published before photographs became available contained engravings and those produced in the 19th century can be of very high quality. The problem is that many of the books have been broken up for the prints to sold separately. To discourage such vandalism I am happy to provide high resolution copies any of the prints on this web site I have been able to scan (where there are no copyright restrictions). There is no charge for copies provided for private use - but if you are satisfied with the image I send it is suggested a donation is made to support Herts Mind Network.

I have added three old prints, all of which have been hand coloured.

Monday, August 9th

An Improved Question Asking Facility: One of the problems with offering an Ask Chris question answering facility is to attract a sufficient number of interesting questions while discouraging the time wasters who merely want to be spoon fed with look-up information they could easily get for themselves. Following the successful changes to Tell Me in July I have made matching changes to Ask Chris.

In the past I had tried to actively discourage too many queries and may have ended up frightening off some good questions - while not discouraging those who are determined to ask a question, however irrelevant to the web site. The new approach is that a wide range of questions are encouraged - but I cannot answer everything and I will have to be selective. I therefore provide some guidelines to help you to ensure your question is one of the selected ones. In fact question selection is what happens with all the popular family history magazines, who answer two or three questions a month - but undoubtedly get hundreds. The general rule is that the more carefully you think about how your question is worded the more likely you are to get it answered.

My target is to attract at least one excellent question, with features of general interest, each week, and when such a question arrives it will be answered almost immediately. All other questions be put on a list for consideration and the best few will be selected each month. If a query is not selected for immediate consideration it will get a standard email saying that it is in a list from which the best questions will be selected, and that if it has not been answered within a month the question will not be selected. Questions which demonstrate that the questioner didn't bother to find out how the site worked and, for example, used the Tell me facility to ask the Webmaster questions of family or local history, will automatically go onto the bottom of the "for consideration" list. The Query FAQ has been modified, and a mechanism for sending pictures or other attachments to supplement questions is described.

Sunday, August 8th

Do you know what a Cresset is? There is a picture in my review of Monken Hadley, by Frederick Cass and published in 1880 There is also an excellent engraving of the church as it was before 1848, when the box pews and galleries were taken out. The book also contains family trees (almost all finishing before the 18th century) for the following names: Backhouse, Bellamy, Brunskell, Cotterell, Dillingham, Gale, Goodyere, Grene, Hayes, Hopegood, Ince, King. Kympton, Moore, Pagitt, Palmer, Pinnet, Staunford, Taylor, Thackeray, Tufnell, Webb, Wilford

Saturday, August 7th

A better welcome for Google Visitors: About 500 people a day visit this site using search engines (usually Google) and in some cases they end up on pages where it is not clear where they are because the left hand menu frame is missing. I have identified about 50 pages which seem to be among the commonest entry points. Where ever improvement would be helpful the top of the page has been reformatted so it is obvious than the page related to Hertfordshire, with links to tempt the visitor further into the site.
Some More Post Card Images for the site

Langley House, Abbots Langley
Serge Hill, Abbots Langley
The Brook, Water End, North Mymms
Church, Bramfield
Friday, August 6th
The latest from the Hertfordshire Countryside: The August issue contains an article on the villages of Thundridge and Wadesmill which includes a picture of the Clarkson Monument in its new position after being restored.. The letters page also includes a picture of the ruined tower of the old church at Thundridge. The clock on Christ's Hospital, Hertford, has also been restored and I noted an article on the mail coaches that used to pass through the county before the railways were built. I was also interested to know that General de Gaul had lived at a a house called Rodinghead at Berkhamsted during the Second World War.

The pages for Thundridge and Wadesmill have been provided with a menu.

Hertfordshire Iron Makers: The Hemel Hempstead Gazette has a weekly Heritage page and the July 28th issue printed includes information and photos of the iron works that used to be in Marlowes, Hemel Hempstead before the coming of the new town. This is based on a new book, Men of Iron, The History of the Boxmoor Ironworks. It is published by the Dacorum Heritage Trust, from whom copies can be obtained. I will publish a review when I get a copy. It contains information on the Davis, Lane and Bailey families.
Thursday, August 5th

Improving The Web Site: Aldbury: When this site started in 2001 the idea was to have one page for each ancient parish, but as the site has grown this has proved inadequate for many villages and all towns. The current aim is for every ancient parish (apart from the very smallest ones) to have at least a home page, a dedicated menu, and supplementary pages - one of which will normally include the parish church. Over the next two months it is planned to do this for all the parishes beginning with "A" - and menu and new pages for Aldbury are now in place, including some additional external linkages.
Wednesday, August 4th

So the fish came by train from Aberdeen ... Andy kindly sent a transcription of the inquest when Harry Doggett died after eating fish from Mrs Duce's fried fish shop. Such inquest reposts can be useful because they can include details of everyday procedures that are not ordinarily recorded - in this case that the haddock came from Aberdeen.

News of a Dishonest Solicitor in St Albans: Tom is writing a biography of Henry Edwards, of St Albans and wants to included some information about the shady doings of his son Isaac Newton Edward involving the quality of milk supplied to the town by my great grandfather Jacob Reynolds, and others. For details of the story as it unfolded in the Herts Advertiser of 1881 see Skimmed Milk in St Albans.

Keep track of updates using : So many people are now on twitter I have started posting brief news of the updates to this site on Twitter, and have added links to the opening and home pages. If you want to be automatically told of the updates why not follow @HertsGenealogy. As I am new to Twitter please tell me if you have any problems.

I discovered that if you did a google search for the phrase "Hertfordshire Churches" the top return was a page which gaily told the visitor that they should look to another web site if they wanted pictures of Hertfordshire Churches. The page Hertfordshire Church Pictures has now been revised to indicate how you can see the very many pictures on this site, and only then tells them where else they might look.

Tuesday, August 3rd
Improvements of Indexes: The Answers and Subject indexes have had a minor reformat to remove a minor layout problem with bulleted lists on some web browsers. At the same time the rarely used "Other Answers" heading has been removed and the following answers to questions now appear in the Subject index. Future subject-type answers will be mentions as answers in this blog but will thereafter will be accessed from either the subject index or particularly relevant help pages.

In addition Hertfordshire? is now accessed from Problems with finding information in census returns

Working in the Picture Palace at Letchworth?: The 1911 census records Keith's grandmother as a "Kinord Picture Cleaner" but perhaps the person filling in the form was uncertain how to describe someone who was cleaned the 750 seat auditorium of the recently built "Kinema," See CONDER, Cinema Cleaner at Letchworth, 1911
Totteridge Parish Church: ...A charming print of Totteridge church which shows the building as it was in 1809. It was published in Volume 2 of Ecclesiastical Topography - A Collection of 100 Views of Churches in the environs of London, edited by Samuel Woodburn and published by William Miller in 1811. Post card views 100 years later show little had changed.
What has Franci to do with googling your web site? Much to my surprise my early post about Hearing Dog for Deaf People resulted in Rosemary sending me some lovely photographs of Franci, taken in 2008, which I had not seen before. Subsequent emails about the Hertfordshire Branch Site discussed how to get people to visit your web site. If you have a web site of your own, and use frames, it is important to realise that search engines such as google index individual frames and not the whole page. This can mean that someone can arrive at one of your frames and cannot access the rest of your web site. On this web site I get over this problem by ensuring that every relevant frame either has a HOME button or a prominent link at the top of the frame to another page which will give you access to the menu and hence the whole site.
Monday, August 2nd

A Tangled Tale: Linda wondered if she was related to Jonathan COX (1821-1881), Hill End Farm, Sandridge, and if so whether she was my cousin. The answer is yes to both questions, as we are both descended from William Cox (1760 - 1802). I provide a tree showing the relation. This shows that Jonathan Cox married his first cousin Mary Ann Bates, and that Mary's step-mother, Jane Burchmore, was sister to Elizabeth and Martha Burchmore (the first and second wife of Daniel Hill). This links them into the complex network of cousins documented in Who is related to Who?
... and press coverage of a death: Because Jonathan was included in my searches of the local newspaper some years ago I have been able to provide references to a number on incidents involving him and have copied the accounts of his death, his funeral, and the advert for the sale of live and dead stock on Hill End farm after his death. These are a good example of the kind of coverage you can expect when a leading member of the local community dies circa 1880. The long list of people attending the funeral include many senior members of the community (quite a few were involved in the cousin network) . There is no mention of his many farm workers apart from a mention of some unnamed villagers at the graveside. It is possible that some of these would have lost their jobs when the farm live and dead stock were sold a few weeks later.
Sunday, August 1st
A Report on July's site statistics: The overall number of visits was slightly higher than in June with 18,298 visits from 13,803 unique visitors, but the average number of pages viewed rose from 2.59 to 3.10 per visit. This may well be due to more people visiting the Editorial Blog (an increase from 462 to 709) and then following the links to new material. (This visit number is all by genuinely interested people as the blog page is labelled "no robots" to ensure it is not indexed by the search engines).

As one might expect for a popular site (which gets ranked comparatively high by Google) 13273 visits were made from Google. Anyone who has ever used Google will realise that many such visits would involve looking at a page and deciding it is of no use. However many people obviously found something of interest. 129 visits to the site lasted over 1 hour, 743 visits lasted between 15 minutes and 1 hour, and 2054 visits lasted between 2 and 15 minutes. The interactive Guide to Old Hertfordshire page was visited 228 times and while it is not possible to be certain of the exact number, about 2500 place flags were followed up or about 10 places per visit. Links from pages with explicit links to this site are likely to bring in people with a serious interest. There were 1482 entries to the site from an unbelievable 730 different URL (meaning that at least 730 pages belonging to other people include links to this site). Of these 110 people entered this site from pages on Wikipedia, 64 from hertsdirect (the Herts County Council site), 32 from cyndislist, 23 from GenUKI, and 15 from Rootsweb. Unfortunately there were a lot of people who tried to enter a page directly, rather that via the home page, and were rejected because the URL they used was wrong.

All things considered a very satisfactory month, and I believe that there is a good chance to attract more genuine visitors to this site.

Hill End Mental Asylum is popular! One of the most popular web pages on the site, as shown by the statistics is Long Stay Hospitals in the St Albans area. This page was visited 313 times in the month. My first thought was that googlers were finding the page by mistake when looking for information on St Albans Hospital. A closer look at the statistics shows that many people were actually looking for Hill End or one of the other mental hospitals. Search phrases used to find my site included Hill End Hospital (29 times - the eighth commonest search phrase), Napsbury Hospital (17 times), Hill End Asylum (13), Hill End Mental Hospital (6 times), Leavesden Asylum Watford (5 times), Cell Barnes Hospital (5 times), Napsbury Mental Hospital (4 times), Napsbury Asylum (4 times) and History of Leavesden Hospital (4 times). Six other phrases were used 3 times each and many more less frequently. It would therefore seem that at well over 100 accesses to the page would have been as the result of specific searches for one or other of the now closed long stay asylums in South West Hertfordshire.

As if to prove the point this morning's messages included one from Kitty about FORTNUM, Aldenham, Early 20th Century. This is a sad case where the wife is admitted to Hill End Hospital, the husband goes to prison, and the children end up in the workhouse before being sent to new homes in Canada. I have passed the query on to Nancy, cousin of Kitty, who asked the original question.

End of an Era? - Time for a Change? All this talk of Hill End Hospital reminds me to tell you of a change in my life. When I returned from Australia in 1991 I immediately started doing voluntary work for the charity Mind in Dacorum (now the Herts Mind Network). I was soon on the committee representing the charity in discussions on the closure of Hill End Hospital and the moving of long stay patients back into the community. Some of these meetings took place in the Board Room in the Hospital, where undoubtedly my Great Grandfather. Jacob Reynolds, sat when he represented Hertfordshire County Council on the Management Committee shortly after Hill End was built. I joined the Community Health Council for N.W. Hertfordshire and later represented the South East of England on the Council of Management for the national mental health charity Mind. Three years ago I was representing the public of Hertfordshire on three committees as an observer - The Board of the Hertfordshire Partnership N.H.S. Trust, the Scrutiny Committee of the Hertfordshire County Council, and the Commissioning Board, which decided how mental health money should be spent in Hertfordshire. I found this very stressful and decided to gracefully "retire" by being elected as a Governor on the newly formed Hertfordshire Partnership N.H.S. Foundation Trust. My three year stint ended yesterday and for the first time for 19 years I am no longer on a mental health committee, passing the baton on to a younger generation.

So what am I going to do now with "all that free time." Well I could spend more time on this web site but I am already spending too much time on this and will try an ration myself to an average of two postings to this blog a day. However over the years I have become more interested in the History of Science - and in particular the way that computers developed and why they are inherently so unfriendly (although they may be dressed up with vast quantities of software to make some applications look friendly). I may well end up writing a book on the subject or run a specific blog (separate from this one). Two days ago I dipped my toe in the water by posting a provocative comment Climbing the Mount Improbable of Evolving Programs. If you are interested see Pharyngula and scan down to comment #10 and later comments - if you want to comment make them on that blog.) If I do start a special blog I will let you all know - but otherwise it will be run separately from this blog and web site.

A Victorian History of St Albans: In 1893 Charles Ashdown was author of St Albans - Historical & Picturesque with line drawings by Frederic Kitton. Only three hundred copies were produced of this impressive volume, including one hundred in deluxe binding at £3 each. This means that secondhand copies will cost you at least £100 and much more for a deluxe edition in very good condition. Fortunately the book has been reissued as a paperback in 2010 and copies of this reprint may be purchased online at a very much lower price.

The book was produced in a similar format to Hertfordshire County Homes - also illustrated by Frederic Kitton, but there is no evidence for any connection with Truman Press or the Hertfordshire Standard newspaper. I have recorded details of the original book together with extracts of a very long review that appeared in The Antiquary in 1894. The reviewer was very critical of the recent restoration of St Albans Abbey.

In aid of Hearing Dogs: Rosemary Wenzerul (dandr @t wenzeds.freeserve.co.uk) wrote to tell me she was raising money for Hearing Dog for Deaf People. She has produced a CD, 50 Years of Bricket Wood which contains extracted information from 50 years worth of Bricket Wood Newsletters, and photographs of properties and all the roads in Bricket Wood. She has also produced a follow up CD of the Bricket Wood Residents' Association 50th anniversary fair on Smug Oak Green in 2009 showing all the exhibitors and how the morning started with people putting up marquees to everyone leaving the area in the evening. The charge is postage plus a £1.00 donation to Hearing Dogs. She also co-authored a book of 12 walks around Bricket Wood (link). Her message reminded me that I had let Franci down by not posting a picture of his last competition victory - Best Veteran at the Hearing Dogs annual show at Bricket Wood in September 2009. The oversight has now been remedied.
July y 2010 Blog June 2010 Blog May 2010 Blog April 2010 Blogs Earlier Editorials